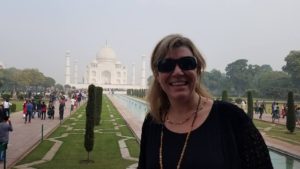 Replenish Yoga and Wellness, a yoga studio located in the historic Backus building in International Falls, MN, is offering a Spiritual and Cultural Retreat to Delhi and Rishikesh, India, February 25 – March 4, 2018. The India experience is the first international retreat offered though the studio, which is owned by Christa Heibel, RYT 500, who recently returned from her second journey though the South Asian country.
"My first trip to India was so transformative – spiritually, personally, culturally – that I made it my goal to return with yoga students in order to offer them the same experience," Heibel says. "Although your yoga practice will assuredly grow on this trip, it's really about reclaiming a connection to self, as well developing a deeper understanding of our global family."
The Replenish studio is partnering with Abhi's Yoga Studio Risikesh for the retreat, which coincides with Holi, India's festival of color, celebrating the victory of good over evil and the arrival of spring. Symbolizing emotions and happiness, the festival was traditionally marked by people gathering together to douse each other with turmeric, sandalwood and flower extracts. Today, the celebration includes throwing fistfuls of colored powder to create a riotous spectacle.
The tour will include a twice-daily yoga practice exploring Ashtanga, Hatha, Karma, Nindra and Mantrastyles, while traveling to four of the country's famous cities: Delhi, Agra, Shivpuri and Risikesh, known as the holiest place on earth. Tour sites include: Qutab Minar and Lotus temple, Akshardhaam temple, India Gate, the Tajmahal and Red Fort Agra. Prices include accommodations, including a luxury camp in the Himalaya Mountains along the holy river Ganga.
Heibel's goal is to offer several annual India retreats, and she is already planning one for May or June 2018, in Kullu Valley and other high Himalayan locations. "I humbly invite people to join me in this life-altering experience," she says. "No yoga experience necessary, just a sense of wonder and an open mind and heart."
Free Yoga and More Info
To promote the retreat and provide more details, Heibel is hosting a free yoga class Saturday, December 8 at 9 a.m. in the Replenish studio, followed by an information session for the India retreat in the Backus board room (101-102) from 11 a.m. – 1 p.m. Heibel will share her past experiences in India and answer questions about the up-coming retreat. Spaces are limited for this once-in-a-lifetime opportunity. For more information, go to replenishliving.com/upcoming-events/india-2018, or contact Heibel at replenishmindbodyspirit@gmail.com or (218)286-4006.
About Christa Heibel
Christa Heibel, RYT500, eRYT200, is the owner of Replenish yoga studio, a yoga instructor and Reiki practitioner. An experienced consultant in sales, marketing and business development, Christa began taking yoga classes in 2001 while living in California. She began her formal yoga teacher studies in 2009 at Yoga North in Duluth, MN. There she learned the 8 Limbs of Ashtanga Yoga and Hatha yoga, which formed the foundation of her current yoga practice and teaching philosophy. Heibel was RYT 500 certified by Yoga Alliance in 2010 and specializes in helping people find greater ease in mind, body and spirit through the practice of traditional yoga. While living in Denver, CO, in 1998, Heibel began her Reiki study and has since received both Reiki I and Reiki II certifications. She offers private Reiki sessions, guiding life-force energy for healing and balance in the body.
About Replenish
Christa Heibel opened the Replenish yoga studio in International Falls, MN, in 2011, and has since established a popular Yoga Teacher Training course. The certificate program is licensed as a private career school with the Minnesota Office of Higher Education. Replenish hosts several retreats in various locations throughout the year, including Sugar Lake Lodge in Grand Rapids, MN, and Yoga Tree in Roseau, MN. The Spring, 2018, India retreat is the first international experience offered though Replenish. For more information about studio classes, retreats and special workshops, visit replenishliving.com.