As Vice Chair of the PACE Board of Directors, I want to personally invite you to our big show that's coming up in less than two months – ACX 2019! ACX is our annual Convention and Expo, which takes place March 31-April 3 in San Antonio, TX. Have you thought about attending? Maybe you attended in the past, but aren't sure if ACX has what you need. Let me help you unpack some of your own questions, concerns and hang-ups by giving you FOURreasons why you should attend:
Engaging & Interactive Content
Gone are the days where PACE was known as "the compliance association". I am so excited to share that ACX'19 will give attendees a 360° View of Customer Engagement, which will include innovative content and education in key areas such as:
Customer Experience
Compliance and Data Privacy
Contact Center Operations
Omni-Channel Optimization
Employee Engagement
Service Delivery
Big Data Analytics
Brand Strategy for Contact Centers
AI & Automation
As you can see, our education tracks and breakout sessions provide you with knowledge, strategies and resources you can immediately incorporate into your daily strategy. You will undoubtedly leave ACX with the tools you need to help you make better decisions for your team, project and organization.
Expert Speakers
I am pleased to announce that ACX will offer dynamic Subject Matter Experts from industry-leading companies such as Amazon, Google, Uber, Hulu, Weight Watchers, Ring, Customer Bliss and Fidelum Partners. They will deliver unique insights and perspectives to help you improve the customer experience that your organization delivers.
Meaningful & Productive Networking Experiences
At ACX, we have crafted several networking experiences to get you connected with hundreds of industry professionals. You will meet many individuals in your field that are dealing with similar challenges and roadblocks you are facing in your organization.
Solutions-Focused Expo Hall
Our exclusive Expo Hall will showcase the latest innovative technology from companies such as Neustar, Noble Systems, and Daily Pay. If you are interested in exhibiting or sponsoring, take a look at our ACX attendee breakdown below. You will see that more than half of attendees are Director-level and up so sponsorship will help you get in front of decision makers instantly!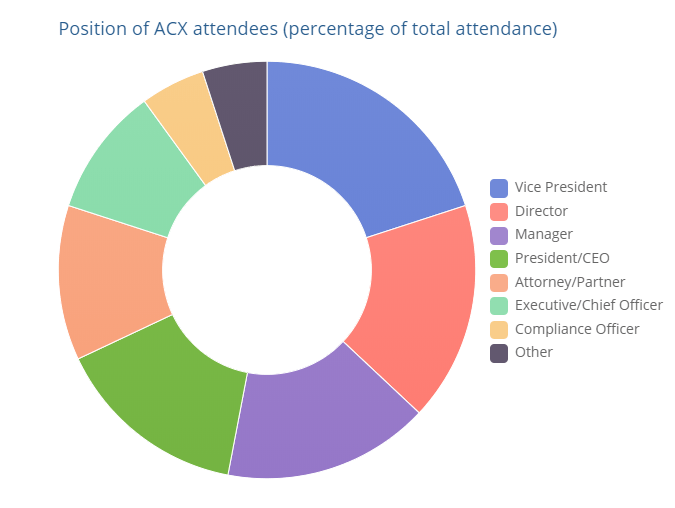 If you are interested in attending, I have a discount code for $200 off your registration. Please e-mail me for more the code or if you have any additional questions. I look forward to seeing you at ACX'19!