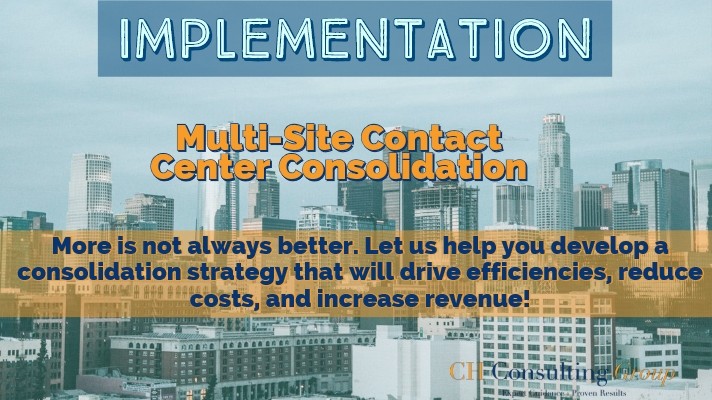 CH Consulting Group can support your business through strategic, consultative services for call center consolidation. We can examine the current state of your call centers and develop a consolidation strategy that would best drive efficiencies in five primary areas: operations, technology, facilities, and processes. The goal is to convert your core company competency (ex. Customer Care of Sales) into a consolidated, strategic asset and improve standardization and efficiencies company-wide.
Depending on the number of call center locations, CHCG recommends a systematic approach for the site visit where we visit the corporate office plus a sample selection of call center sites. This will allow CHCG to efficiently assess current state of call center operations. Our strategy will provide you with:
Operations Strategy – CHCG will provide an action plan for short-term operational improvements that will allow you to experience instant operational cost savings. These low-hanging fruit opportunities can help to offset the investment needed to implement full consolidation recommendations
Return on Investment and ROI based modeling, if needed – Where there is opportunity to run modeling based on recommendations that will result in improved cost management and/or KPI improvements, CHCG will provide assistance and samples of models to evaluate options on process, technology, work force management and workflow improvements including outsourcing scenarios.
High Level Call Center Consolidation Strategy – Based upon the initial assessment CHCG will provide a high-level call center consolidation plan with recommendations that will employ a disciplined, systematic approach that provides you with significant operation cost savings and gained customer experience benefits including draft technical requirements.
High level draft consolidation draft timeline/plan— Including full timeline draft, key milestones, and resources required
Location consolidation cost analysis and recommendations– full labor market analysis, infrastructure costs, cap ex, technology for up to 4 identified markets
If you are in need of a multi-site call center consolidation strategy for your business, I'd love to learn more about your needs. Please make sure to fill out a form today for a free proposal!
Fill out form below for a free proposal!