The recent COVID-19 pandemic has exposed many pitfalls and blind spots that businesses may not have otherwise been aware of. This includes safely and effectively scaling business operations to keep staff safe while also remaining profitable. Your business partners in a time like this are crucial in supporting your organization's adaptation to the ever-changing business landscape. Fortunately, I've had the privilege of working closely with a BPO that has been making quite an impact while effectively scaling their services for their client, even through a global pandemic. Check out this impressive case study of Fair Trade Outsourcing.
In 2016, the client, Fair Trade Outsourcing (FTO) began working with a leading provider of online proctoring services to over 1,000 academic institutions. In the beginning, FTO provided live proctoring services for this client, but soon moved on to provide support to improve customer experience. Gradually, FTO supported the growth of their client by going from 6 proctors to 168 agents in two years and proctoring nearly 700,000 exams each year.
In early 2020 as the COVID-19 pandemic began to grip the United States, higher education institutions were forced to rely on remote teaching and learning. According to a recent poll in April 2020, 54% of academic institutions were using online or remote proctoring services, and another 23% were planning to use them. In this case, the client turned to FTO to help them scale their workforce to meet national demand during a difficult time globally.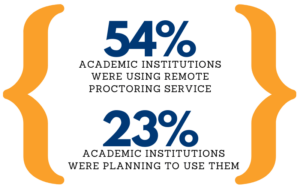 However, this is not the first time that Fair Trade Outsourcing helped their client scale up their operations with little time to spare for hiring and training new agents. In the aftermath of Hurricane Maria, FTO's client lost one of its service providers — a company in the Caribbean – and asked FTO to take on the workload of two companies.
During this natural disaster, FTO hired and trained the agents they needed, growing their size by 2.5 times. However, because the workload itself was doubled, all agents had to work additional hours. In fact, many spent their waking hours at work, going home only to sleep, shower, eat, and change clothes. They endured the grueling work hours and the exhausting workload until their colleagues in the Caribbean recovered from the damage wrought by the hurricane. This lasted a little more than 3 months during the fall peak season. It was exhausting but it was worth it after hearing words of gratitude from our folks in the Caribbean and the heartfelt appreciation from our managers in Alabama and California.
"Fair Trade Outsourcing took the initiative to protect our agents and keep our operations flowing smoothly at the time when Hurricane Maria took out a huge chunk of our facility in the Caribbean. Now, they did it again. This time, we are in a global crisis as a pandemic sweeps through many countries, putting people, and businesses at a huge risk.
Fair Trade Outsourcing made the right call in sheltering our agents in a safe and clean place, providing the resources and sustenance they need to keep them healthy and as free from worry and anxiety as possible. For that, we are grateful, and we look forward to strengthening our partnership further."
CONCLUSION
Fair Trade Outsourcing is focused on helping their agents see progress in their lives. This focus on agents and their household leads to a higher level of work ownership, which promotes transparency and accountability among its managers. A moral approach to corporate leadership and an orientation towards fighting poverty rounds out the pillars on which the Fair Trade Outsourcing model stands on. With the Agent Bill of Rights serving as protection for employee rights and welfare, it is no surprise that the way FTO has been managing its operations has created superior results for its clients such as low absenteeism, high productivity, and consistently exceeding client-established goals and expectations.
Fair Trade Outsourcing has set a new standard for successful scalability, even during a global pandemic. Imagine how their business model would impact an expansion project during standard operations. They have exceeded their client's expectations in increasing the number of live proctoring sessions they can perform and continue to impress their large client base with their innovative labor force model, high-performing agents, and unquestionable agent quality.
CH Consulting Group provides unparalleled expertise in the Contact Center and Customer Experience (CX) verticals. We have a nationwide team of industry veterans that can assist you to achieve exponential growth, manage change, and generate profit. For a comprehensive CX assessment and strategic plan customized for your unique business needs, connect with us here today.