Here is your chance to get up close and personal with the CH Consulting Group team! Every month we will shine a spotlight on a different consultant for you to learn more about. This month, the spotlight is on the CH Consulting Group founder and CEO, Christa Heibel. Not only does Christa model the service standards for our clients, she also supports each consultant to exceed your business goals. Christa's expertise and decades of experience in contact centers coupled with her unrelenting work ethic makes her a leader we can all stand beside.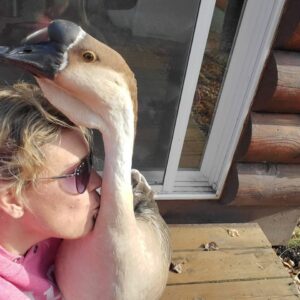 You may not know that I am a…
Goose Whisperer
As a serial entrepreneur, I have always been intrigued by the challenges and successes of making businesses more effective, resources happier, a bigger profit margin.
Why CH Consulting Group?
I am a change agent that likes to solve problems and the challenges that go with it. I get bored fast in stable, constant management environments. I think this is why I prefer working with new clients and working through their unique problems and concerns. With CHCG, I get to exercise my muscles in creativity and problem solving while also helping companies reach their full potential!
What is the most rewarding part of being a CH Consultant?
I like being a problem solver. I want to enjoy being a hero for a day and really helping my clients do better business and lower their stress/concerns. While I enjoy examining my clients' issues and finding solutions for their problems, I love supporting the implementation of my team's recommendations and watching their operations grow more efficient and profitable. It's even more rewarding for  me when my clients come back and tell me how much their company has grown with my team's help!
If you were not a consultant, what other career would you have pursued?
I am living the dream with two of my favorite careers! When I am not working with consulting clients I am a yoga teacher e RYT-500. I run a yoga studio in both Minnesota and Rishikesh, India teaching classes, workshops, leading retreats and training programs. My passion and career in yoga allows me to fulfill my desire to lead others in a spiritual, physical and emotional journey to connectedness, community, and acceptance.
Outside of work, what are a few things that you are passionate about?
Yoga, reading, food, paddle boarding, and of course…travel! In fact, I am currently obsessed with international travel! In the past year, I have traveled to India, Colombia, and Malaysia. I enjoy immersing myself into local culture, trying new food, meeting new people, and learning about their unique way of life. Through travel I am truly able to open my mind and expose myself to different ways of thinking that I would never have been able to experience if I just stayed in my own bubble.