It isn't often that I get the opportunity to get on my proverbial "soap box" and boast about a business that I can really stand behind. But after meeting Mike Dershowitz, CEO and Founder of Fair Trade Outsourcing, I feel it is necessary – especially with the current offshore BPO needs due to the global impact of the COVID-19 virus. Fair Trade Outsourcing is proving that their unique economic system for managing labor delivers superior results for clients. In my 25+ years in this industry I have always believed that the agents that service customers are as equally important as the customers themselves. 
Fair Trade Outsourcing (FTO) is leading the future generation of the Business Process Outsourcing model by mitigating the issues that currently plague other outsourcing companies such as quality applicant flow and strong retention of employees while also providing exceptional service. They are driving results utilizing a holistic approach that benefits clients and agents alike.
Outsourcing has been around for years and won't be going away anytime soon. 59% of businesses see outsourcing as an effective cost cutting tool. 57% see it as a way to focus on their highest ROI activities, and another 47% say it helps them solve their capacity issues. It's no wonder that outsourcing is seen as an interesting business solution! However, many of these BPOs are a dime a dozen. Most boast about cutting costs and increasing revenue for your business, but few are actually able to deliver. EVEN FEWER are able to say they are a purpose-driven business that truly values their staff and makes a social and economic impact within the communities that their contact centers reside in.
This is where FTO comes in.
You may be wondering exactly what it is about FTO that sets them apart from other BPOs and has me so excited. First of all, let's address their company mission versus their vision: FTO was started to deliver superior results by valuing their agents and improving their economic welfare as well as seeking to reduce global poverty by creating a sustainable middle-class employment with the hopes of eventually growing a new generation of capital owners from wage earners. This social impact business model brings tangible, hard-hitting results for FTO clients by creating sustainable and ethical economies in areas of the world that are otherwise ignored by most capitalist ventures. Let me repeat again, because it is THAT important – FTO's unique economic system for managing labor delivers superior results for clients. It is through their approach of social welfare, capacity building, and economic progress that they provide their clients with a high level of workmanship through: 
Higher productivity rates
Higher customer satisfaction with 99% accuracy and 98% first call resolution rates
Higher hiring and retention rates
Lower absenteeism and 1.05% turnover rates compared to 10-20% standard
Scaleable and flexible model to support business growth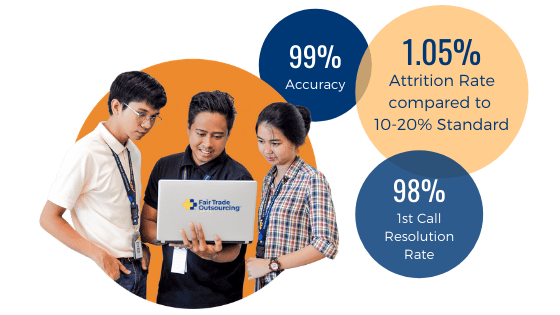 So, how does FTO do it? Well, in my opinion it all starts with the agent model. Though the location isn't nearly as important to FTO, they choose areas that need it most. Locations that have high poverty rates but offer prime opportunities to support a technology-based business allowing Mike and his teams to gather agents that are ready to invest in themselves. They currently have contact centers in:
Philadelphia, Pennsylvania, USA
Davao, Iloilo City & Bacolod City, Philippines
Accra, Ghana
FTO chooses their staff, not only based on experience and education, but also by FTO's own customized benchmarking system that analyses their skillsets and willingness to INVEST in themselves. That is part of putting people first. By targeting underserved populations, veterans, fostered youth, and families who are barely getting by at or below the poverty line, FTO provides stability in their lives and goals to works towards. For most individuals, this opportunity is a path out of hardship for them. The job gives them a sense of pride as they are able to support themselves and their families while also continuing to develop new skills.
Unlike traditional low labor business benefits that take advantage of this low income population, FTO goes above and beyond to support and grow their teams to meet basic needs such as private transportation,  with zero-interest microloans for motorcycles and often times even a free refrigerator to help the household improve cash flow and consumption. FTO has set out to change the way we view business process outsourcing. FTO pays a living wage while helping agents set goals to increase their income while also providing free health care.
Fair Trade Outsourcing has built a business model that cares for the agent in the center and at home so that they can be safe and worry free to come to work and dedicate their time to your business.
FTO – Trusted Partner in the COVID-19 Pandemic
We see, hear and feel the global impact of the novel COVID-19 virus on our industry daily with each conversation, email, and phone call. While many BPOs struggle to get their agents home safe and set up to work remotely, FTO continues to provide businesses with elevated service. In fact, I would go as far to say that FTO stands out as exceptional in this current climate. By giving agents the ability to work remotely either offsite or another provided secure location, you can continue to count on their ability to serve your clients through this and any other issue that may affect your continuity. They can train agents in less than 30 days depending on complexity and number of agents required. FTO also has the ability to provide reserve capacity for when you need to scale your program up or down to meet demands.
I am a data girl and if you know me, I like to see the numbers which show you proof that strategies are working.  Stay tuned for agent stories, case studies and so much more from Mike Dershowitz and his team. In the meantime, know that you can always reach out and discuss the opportunities our trusted partner, Fair Trade Outsourcing, provides for both onshore and offshore Business Process Outsourcing.