Operational Strategy Deployment Case Study
CH CONSULTING GROUP CASE STUDY:
OPERATIONAL STRATEGY DEPLOYMENT
Experience Matters.
Download our free Case Study today to see how CH Consulting Group helped the industry leader in ignition interlock systems experience a 5-month revenue gain of $3,433,000 and save $34,963 in annual wage savings by decreasing Average Handle Time.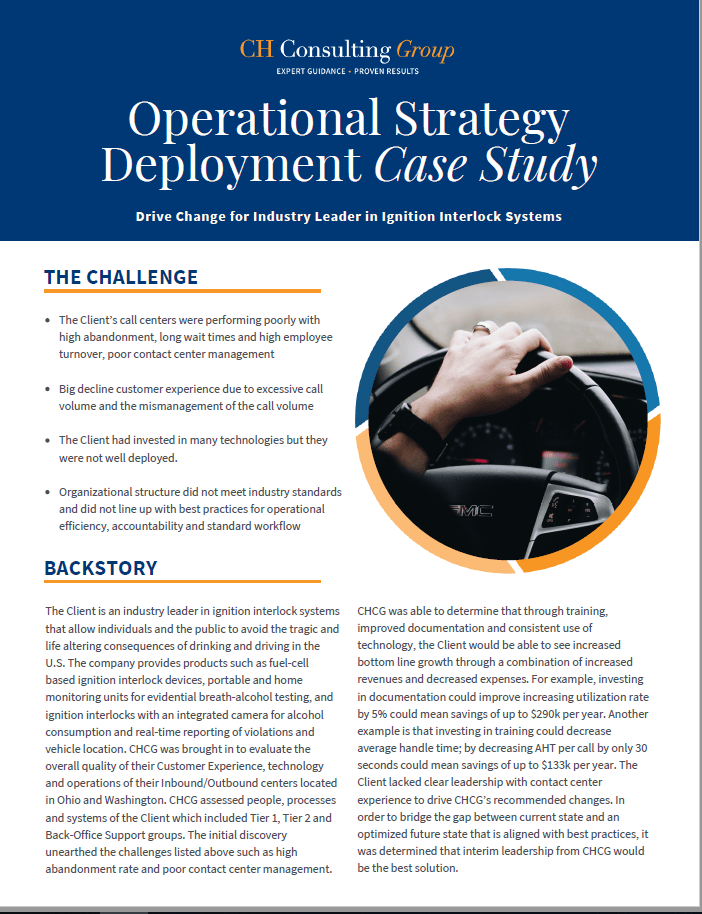 CHCG Delivery: Client contracted CHCG resource as Interim Contact Center Leader whose purpose was to drive change by focusing on six key areas: leadership/staffing, WFM, training, reporting, technology and process.
Time investment: 5 months
Proven results: 5-month revenue gain of $3,433,000 and annual wage savings of $34,963 due to a decrease in Average Handle Time.
Fill out the form below to download our free Case Study!
You know you need help, but don't know where to start? We've helped countless executives that were in your shoes until they finally reached out to us. Send us your details so we can learn more about your challenges and pain points and start delivering the results you are looking for.